Tuesday 5 November 2019 - Thursday 7 November 2019
Booking deadline: Tuesday 8 October 2019
Phonak UK Ltd
Sonova House
Lakeside Drive
Warrington
WA1 1RX
Non-residential course
Delegates are responsible for booking their own accommodation for this course.
Information
This is an introductory course to Paediatric Assessment (Behavioural Testing). The course is for Audiologists who are beginning to work in Paediatric Testing or who would like an update on current test protocols.
The course will be of interest to those wishing to gain an insight into Paediatric Audiology or who may be considering running their own service. It is also appropriate as a short focused orientation for non-graduates who may be assisting in paediatric clinics.
The course covers all the main behavioural tests, including speech discrimination testing and VRA using insert earphones and bone conduction. It also includes introduction to history taking, planning the session, calibration and room set-up, management decisions and report writing.
During the course, delegates will receive appropriate national guidelines for Paediatric Testing.
The course does not cover objective testing, advanced practice or assessment of complex cases.
Course faculty
Georgie Hill

Clinical Scientist / Children's Senior Commissioning Manager
Derbyshire CCG,
Chesterfield

Dr Greg Nassar

Principal Clinical Scientist (Audiology)
Head of Audiology Services
Trafford Hospitals,
Central Manchester University Hospitals NHS FT,
Manchester

Kathryn Woolley

Head of Audiology
Leighton Hospital,
Crewe

Kathryn Lewis

Head of Audiology
University Hospitals of South Manchester NHS FT,
Withington Community Hospital,
Manchester

Jonathan Proffitt

Senior Calibration Engineer (Audiology)
University Hospitals of South Manchester NHS FT,
Withington Community Hospital,
Manchester

Dr Marc Spinoza

Speciality Grade Doctor in Community Paediatrics
Hackney and Homerton Hospital,
London
Course programme
Tuesday 5th November 2019
9.00
Registration and Coffee
9.15
Welcome


Anne Davies

9.25
Course Introduction


Georgie Hill

9.45
Paediatric Development [1 hour]


Marc Spinoza

10.50
Break
11.05
History Taking [30 mins]


Kath Lewis

11.40
Calibration Essentials [1 hour]


Jonathan Proffitt

12.45
Lunch
1.45
Child Protection Issues [30 mins]


Marc Spinoza & Georgie Hill

2.20
Distraction Testing [30 mins]


Kath Woolley

2.55
VRA Basics [30 mins]


Georgie Hill

3.30
Break
3.45
VRA Beyond the Basics [1 hour]


Georgie Hill

4.50
Play Audiometry [30 mins]


Kath Woolley

5.20
End of Day
Wednesday 6th November 2019
8.45
Coffee
9.00
Introduction to ANSD and APD [1 hour]


Georgie Hill

10.05
Speech Discrimination Testing [1 hour]


Kath Lewis

11.10
Break
11.25
An Introduction to Digital Audio Wireless Transmission in the World of Audiology [30 mins]


The Phonak team

12.00
Tympanometry and Reflexes [45 mins]


Greg Nassar

12.45
Lunch
1.45
Planning the Session [1 hour 45 mins]


Georgie Hill

3.30
Break
3.45
Syndromes and Disorders [1 hour 15 mins]


Marc Spinoza

5.05
Report Writing [30 mins]


Kath Lewis

5.35
End of Day
Thursday 7th November 2019
8.45
Coffee
9.00
Management Decisions [1 hour]


Greg Nassar

10.05
Communicating with Parents [45 mins]


Georgie Hill

10.50
Break
11.05
Complex Cases [45 mins]


Greg Nassar

11.55
Case Presentations [30 mins]


Georgie Hill & Kath Lewis

12.30
Lunch
1.30
Workshop [1 hour 30 mins]


Course Faculty

3.00
Equipment Demonstration
3.30
Course Review


Anne Davies

4.00
Close of Course
Course content
Paediatric Development
A whistle-stop tour of stages in child development assessed by paediatricians as part of a paediatric history (including aspects of Down syndrome), which have implications for audiology testing.
History Taking
The essentials of a good history, why and when. Appropriate questions to ask. Example of history taking in clinic.
Calibration Essentials
The importance of calibration for paediatric audiology specifically.
Child Protection Issues
Raising awareness of child protection issues in relation to audiology.
Distraction Testing
The orienting reflex and the most appropriate sounds to evoke a response. Criteria for testing, equipment required, frequencies produced, room set-up and pitfalls.
VRA Basics
Underlying principles of Visual Reinforcement Audiometry (VRA), room set-up, equipment. The practical procedure of performing VRA in the soundfield.
VRA Beyond the Basics
The challenges whilst performing VRA; tactics and good practice to obtain reliable results. The use of insert earphones and bone conduction transducers. Interpretation of VRA results.
Play Audiometry
The requirements of the test, environment, and equipment. A review of the co-operative test. The suitability of play audiometry and the techniques, procedure and results. This is supported by a video demonstration.
Introduction to ANSD and APD
A basic introduction to these conditions, diagnosis and correct management, case studies.
Speech Discrimination Testing
The various types of speech tests available. Appropriate tests for developmental age. Examples of live test in a clinic.
Tympanometry and Reflexes
The difference between standard and high frequency tympanometry testing and results. Test protocols, parameters and pitfalls.
Planning the Session
Why and when do we plan, using information from the referral and history, deciding which tests to use, interactive group work.
Syndromes and Disorders
A review of causes of deafness including syndromes, infections, and other disorders affecting hearing.
Report Writing
Essence and structure of a good report. Why we write them, who to, and what should they inform the recipient about.
Management Decisions
Factors to be considered when formulating management plans. Discussion of case histories and management options.
Communicating with Parents
Communications skills, scenarios and group work on explaining different results.
Complex Cases
Tips and tactics to get the most out of an assessment when testing is more complex or challenging than expected.
Case Presentations
Examples of when to change how we assess and adapt when faced with more challenging cases in clinic.
Workshop
Hands-on work in small groups.
Comments from previous delegates
"The best learning environment I've been in, in a long time."
"A great refresher with up-to-date guidance."
"A very valuable and insightful few days, looking forward to implementing this knowledge."
Accommodation and travel
Accommodation costs are not included in the course fee.
Sonova House (Phonak UK Ltd) is situated in Warrington town centre. 'Premier Inn, Warrington Centre' and 'The Village Hotel Club, Warrington' are a short walk from the Phonak offices. There are a number of other hotels and bed & breakfast within close proximity in central Warrington.
The course fee includes evening dinner on the Tuesday evening of the course.
Driving into and out of Warrington can be subject to considerable delay during rush-hour. We therefore recommend staying over in Warrington rather than driving daily to the course. Where the latter is unavoidable, please leave plenty of time for your journey.
Leaving the course early on the final afternoon is not advised. Train travel from the Warrington stations should be booked for no earlier than 4.45pm.
Methods of payment
Purchase order number and invoice address (supplier: Anne Davies Audiology Courses)
Cheque (payable to Anne Davies Audiology Courses)
Credit / debit card
Monthly instalments by direct debit (UK customers). Two payments of 50% over two months, or three payments of 33.3% over three months, interest free.
If you are travelling from overseas and require a visa: once you register and pay, we can provide a letter confirming your place on the course. Please contact us to discuss.
This course is run in conjunction with

Courses run by other organisations you may be interested in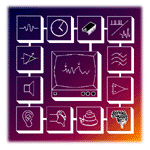 For ERA and Newborn ABR training courses, follow this link.